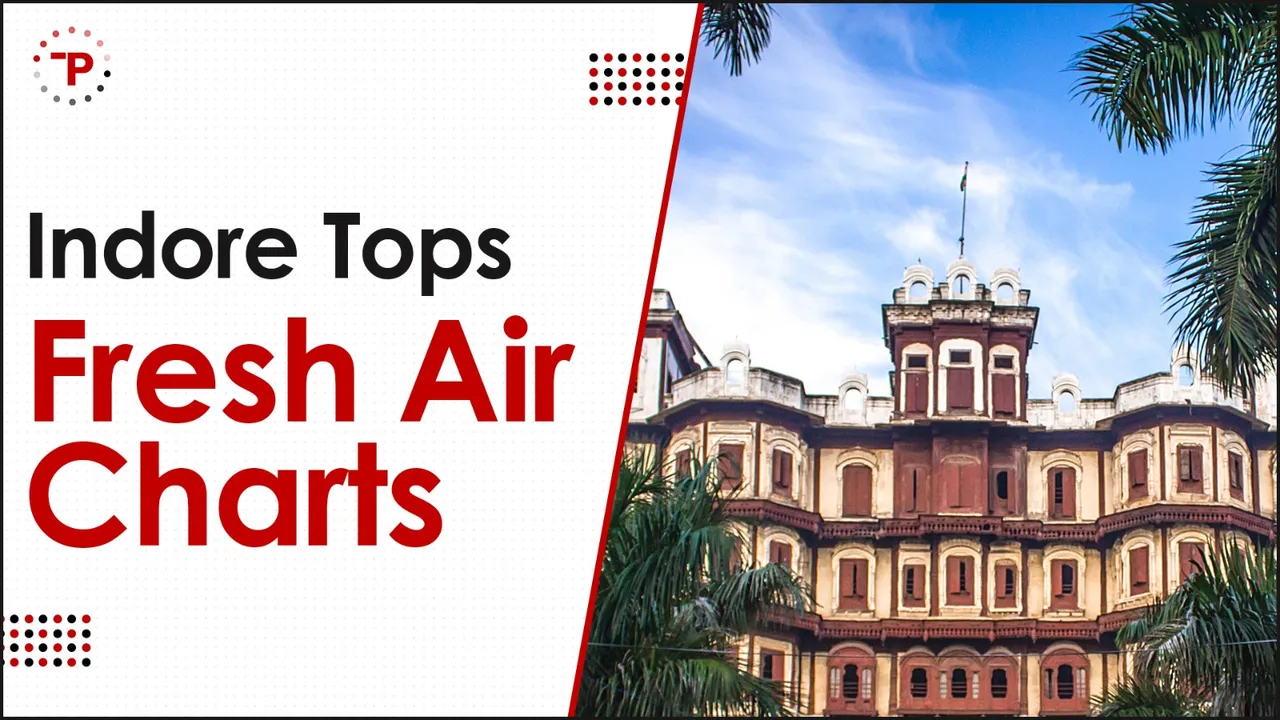 In a remarkable achievement, Indore has not only maintained its reputation as one of the cleanest cities in India but has now emerged as the pioneer in clean air as well. The city's commitment to environmental preservation and sustainable practices has led to its recognition as the city with the cleanest air in the country according to the Central Pollution Control Board's Clean Air Survey 2023. 
Indore achieved an impressive score of 187 out of 200 in the survey, outshining cities with populations exceeding 10 lakh. This accomplishment reflects the successful implementation of green initiatives and collaborative efforts within the community.
A Green Transformation
The secret behind Indore's triumph lies in its multifaceted approach to environmental conservation. The city's leadership and residents joined forces to spearhead initiatives that have not only reduced pollution but also enhanced the quality of life for its inhabitants. One of the key contributors to this victory is the remarkable increase in green cover. 
The city's dedication to afforestation and landscaping has not only beautified the urban landscape but has also acted as a natural filter for the air, improving its quality.
Harnessing Solar Energy and Sustainable Practices
Indore's commitment to renewable energy has played a pivotal role in its journey to cleaner air. Embracing solar energy and adopting sustainable practices have significantly contributed to the reduction of pollutants in the atmosphere. The incorporation of solar panels and net metering technology has led to a decrease in the city's reliance on traditional energy sources, resulting in lower emissions and a positive impact on air quality.
Indore's achievement is a testament to the collective efforts of its residents, local government, and various stakeholders. 
The community's dedication to sustainable living has been evident in the widespread adoption of eco-friendly transportation options, such as e-rickshaws and e-cycles. Moreover, the participation of industries in adopting cleaner practices and real-time monitoring has showcased the city's commitment to maintaining its clean air status.
Recognition and Future Responsibility
The recognition bestowed upon Indore by securing the top position in the Clean Air Survey 2023 is a source of pride for its citizens and leaders alike. However, it also comes with the responsibility of maintaining and surpassing these achievements in the future. 
Continued efforts, such as minimizing vehicle idling at intersections, implementing green practices at construction sites, and ensuring proper waste management, are essential to sustain the city's clean air status.
Beyond Borders: A Global Approach
Indore's success story is not confined to its borders. The city's commitment to clean air and sustainable practices has attracted attention on the global stage. Clean Air Catalyst Consultant Sudhir Gore highlighted that Indore's model is being adopted in international cities like Jakarta and Nairobi, underscoring the city's potential to serve as an inspiration for urban areas worldwide.
A Triumph for All
Behind Indore's achievement lies the hard work and dedication of its municipal team, citizens, and leaders. The collective efforts of promoting eco-friendly modes of transportation, implementing clean practices in industries, and real-time monitoring have truly paid off. This victory is not just a testament to Indore's success but also a victory for the environment and the well-being of its residents.
In conclusion, Indore's top ranking in the Clean Air Survey 2023 is a testament to its commitment to environmental sustainability, green initiatives, and community collaboration. As the city basks in this achievement, it also acknowledges the ongoing responsibility to preserve its clean air status and inspire others to adopt similar practices for a cleaner and healthier world.