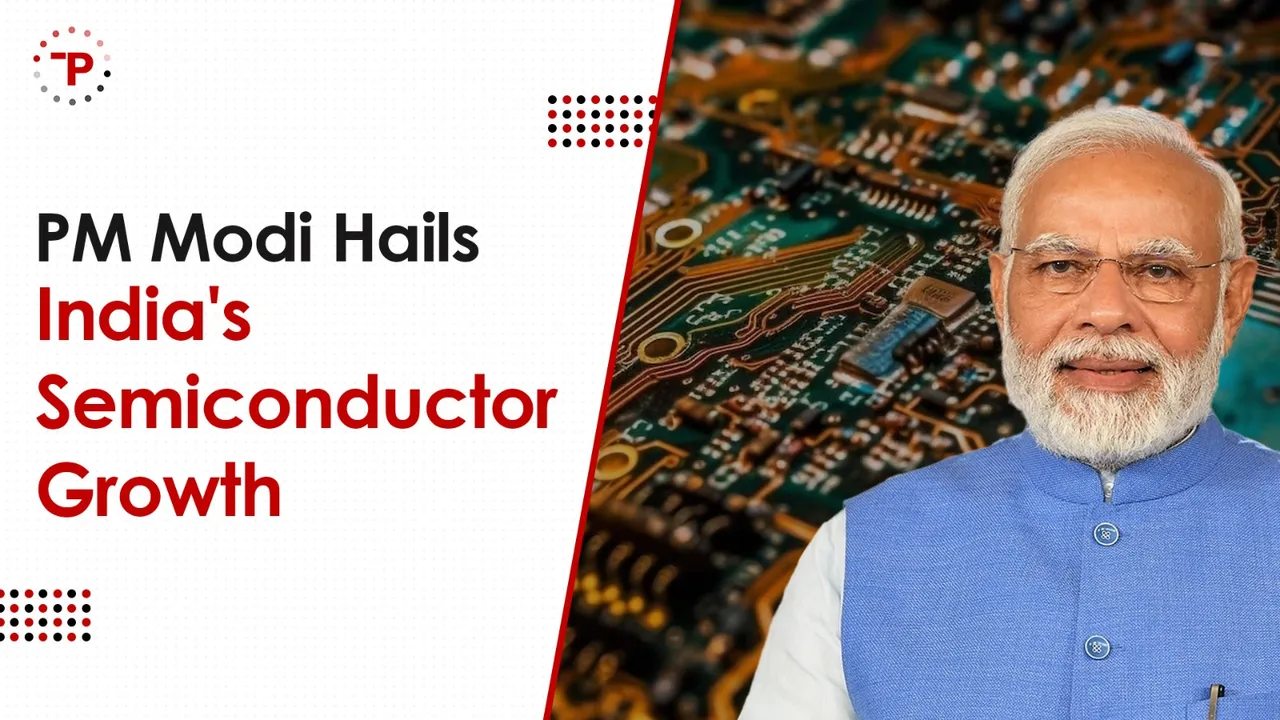 Prime Minister Narendra Modi, in his address at the SemiconIndia Conference 2023, hailed India's transformation from an emerging player to a global leader, setting new milestones and building trusted partnerships in the semiconductor arena.
"Today, India stands as a grand conductor for investments in the semiconductor sector, witnessing exponential growth in the digital and electronics manufacturing industries," stated Prime Minister Modi, emphasizing India's newfound prominence in the global tech landscape.
A Remarkable Journey of Growth:
Reflecting on India's journey in the semiconductor sector, PM Modi remarked, "We have come a long way from being an emerging player to becoming a key global player in the semiconductor industry. India's electronics production, which was under $30 billion in 2014, has now crossed the impressive milestone of $100 billion." This remarkable growth underscores India's commitment to technological advancement and innovation.
Exports Surge and Mobile Manufacturing Boom:
Highlighting India's prowess in electronics manufacturing, PM Modi proudly stated, "In just two years, we have doubled our electronics exports, and the once import-dependent nation is now manufacturing and exporting high-quality mobile phones to the world." This surge in exports and mobile manufacturing showcases India's potential as a global manufacturing hub.
Driving the Fourth Industrial Revolution:
The Prime Minister emphasized that the ongoing fourth industrial revolution is driven, in part, by India's aspirations. He stated, "SemiconIndia serves as a platform to update relations with industry experts and policymakers, fostering synchronization and progress." This collaboration and knowledge exchange are vital in propelling India's tech sector to new heights.
Building an Ecosystem for Chip-Making Excellence:
Prime Minister Modi acknowledged the importance of creating a robust chip-making ecosystem in India. "Creating a robust chip-making ecosystem is our priority. The nation that takes the lead in this endeavor will undoubtedly gain a first-mover advantage," he emphasized, underscoring India's commitment to technological self-sufficiency.
During his address, PM Modi reassured the audience that India stands as a reliable and trusted supply chain partner for semiconductors. "Amidst global upheavals like the pandemic and geopolitical tensions, India's stable, reform-oriented government and rapid infrastructure development instill confidence in the industry," he stated.
Talent Pool - The Backbone of India's Technological Progress:
The Prime Minister credited India's vast talent pool of skilled engineers and designers for the nation's technological progress. He said, "India's talent pool is the backbone of our technological progress. The semiconductor sector believes in India's potential due to the expertise and dedication of our workforce." This highly skilled workforce is instrumental in driving innovation and development in the tech sector.
Reiterating India's global aspirations, PM Modi proclaimed, "When we say 'Make in India,' we envision not just catering to our domestic needs but also contributing to the world. India is ready to be a global hub for cutting-edge technology and innovation." The "Make in India" initiative aims to position India as a global manufacturing and technological leader.
Prime Minister Modi assured the audience that the government is committed to forging ahead with reforms to unlock new avenues for growth and collaboration in the semiconductor sector. He said, "Together, we will create a conducive environment for investors and businesses, fostering innovation and propelling India's semiconductor sector to even greater heights."