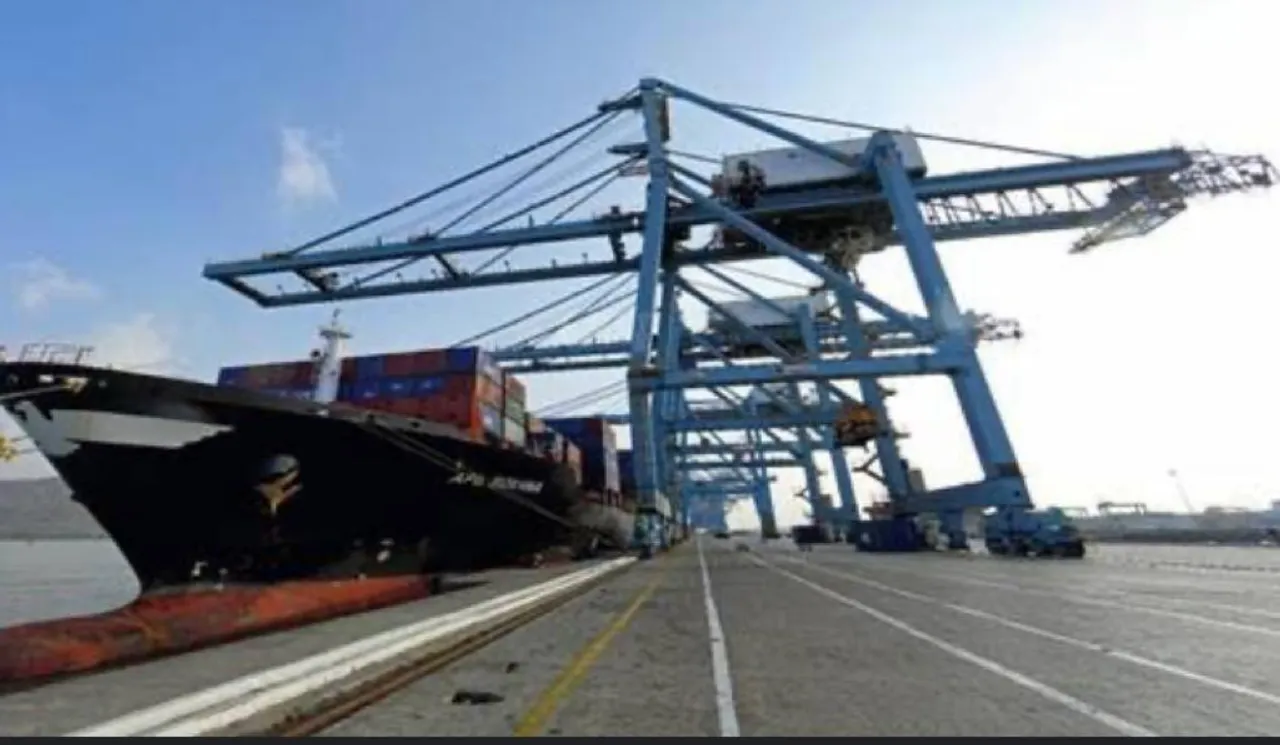 To meet the larger vision of achieving zero carbon emissions, India's Ministry of Ports, Shipping & Waterways has launched the 'Harit Sagar' Green Port Guidelines. These guidelines, launched by Shri Sarbananda Sonowal, Union Minister for Ports, Shipping & Waterways and AYUSH, set ambitious targets for major ports to reduce their carbon footprint and promote sustainable practices. The implementation of these guidelines is part of India's broader commitment to decarbonization and combating climate change.
Green Port Guidelines and Targets:
Under the 'Harit Sagar' Green Port Guidelines, at least 12 major ports owned by the central government must undertake several measures to reduce their carbon emissions. These measures include increasing green cover to 20%, electrifying 50% of port equipment, and achieving a complete "shore-to-ship" power supply by 2025. By focusing on these targets, India aims to make substantial progress in reducing air pollution and improving environmental performance at its ports.
Importance of Shore-to-Ship Power Supply:
Anchored ships contribute significantly to air pollution at major ports. The guidelines prioritize providing a cleaner power supply to these ships, as it is a key intervention to reduce pollution. The emission levels during ships' stationary periods can be significantly reduced by offering cleaner power from ports. This initiative is expected to have a substantial positive impact on air quality and environmental preservation.
The 'Green Port' guidelines set by the shipping ministry serve as benchmarks for major ports and pave the way for broader industry adoption. Following the launch of these guidelines, the ministry plans to extend their implementation to all state-owned and private ports. This holistic approach ensures the decarbonization of the entire sector and accelerates India's progress towards a sustainable maritime transportation network.
Strategies for Decarbonization:
The Green Port Guidelines advocate for the adoption of greener technologies and practices at ports and promote cleaner fuels for power and feeder transport systems. Retrofitting diesel equipment with electric, methanol, or hydrogen-powered alternatives is one of the strategies employed to reduce carbon emissions. The guidelines also emphasize the importance of environmental audits, encouraging credible agencies to conduct annual assessments. Transparency and accountability are ensured by making audit reports accessible on port authorities' websites.
Incentives and Rewards:
To encourage sustainable practices, the guidelines introduce 'Green Ship Incentives' that prioritize berthing or provide rebates in berth dues for ships using cleaner fuel and equipped with shore power reception facilities. Truck operators using clean fuel may also receive incentives, promoting the adoption of cleaner energy sources. Private players involved in port projects that embrace sustainable practices can also be incentivized and rewarded.
Sagarmala Programme and Green Port Policy Toolkit:
The Sagarmala Programme, launched in 2015, serves as a flagship initiative of India's Ministry of Ports, Shipping, and Waterways. It aims to develop efficient transportation and sustainable development while creating job opportunities. As part of this program, a Green Energy Plant is being developed at the Jawaharlal Nehru Port Trust (JNPT) near Mumbai to generate renewable energy and reduce reliance on non-renewable sources.
The proposed Green Ports Policy, which includes the 'Harit Sagar' Green Port Guidelines and the Green Port Policy Toolkit, sets ambitious targets for increasing green cover, electrifying port equipment, and establishing green ammonia bunkers and refueling facilities by 2035. The toolkit provides guidelines and best practices for the development of green ports in India.
Best Practices in Green Port Initiatives
Implementing green port initiatives is crucial for achieving sustainable and environmentally friendly operations in the maritime sector. Several ports around the world have adopted innovative practices and technologies to reduce their carbon footprint and promote sustainable development. Here are some noteworthy examples of best practices in green port initiatives:
The Port of Rotterdam is a prime example of a port that has successfully implemented green port initiatives. It has embraced energy-saving lighting, implemented an energy management system, and adopted modern waste treatment methods. The port has also invested in advanced technologies like RFID reader systems for container tracking and electrically operated cranes. These initiatives have led to a remarkable 14% reduction in carbon dioxide emissions since 2016.
The Port of Hamburg has made significant strides in green port initiatives. It has prioritized the use of renewable energy sources, invested in electric trucks, and incorporated green construction materials. The port has also implemented effective waste management strategies such as waste heat recovery systems, waste recycling systems, and composting initiatives. These practices have contributed to a more sustainable and environmentally conscious port operation.
The Port of Singapore has set an excellent example by prioritizing energy efficiency and waste management. It has developed a comprehensive energy efficiency program that includes energy audits and the adoption of energy-efficient lighting, pumps, and other equipment. The port has also implemented efficient waste collection systems and invested in a zero-waste program. These measures have significantly reduced energy consumption and waste generation, making the Port of Singapore a model of sustainable port operations.