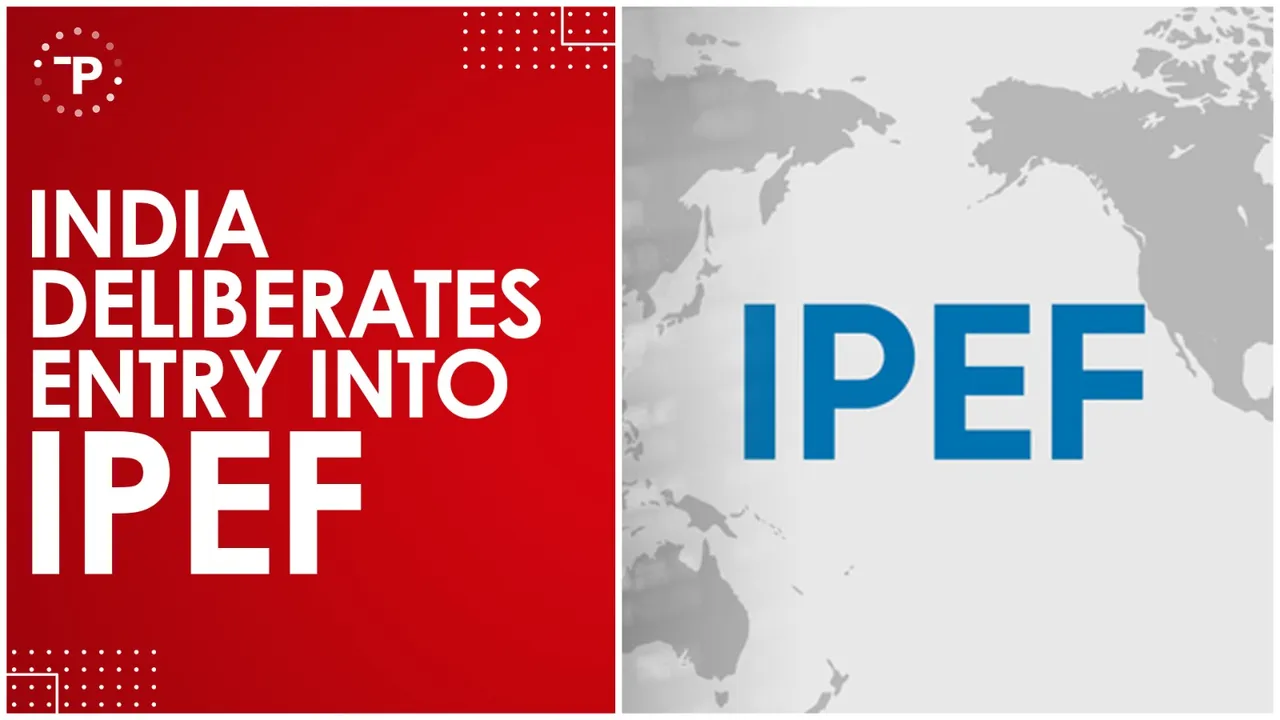 India's decision to join the Indo-Pacific Economic Framework (IPEF), a 14-member alliance established in Tokyo, remains a matter of deliberation. While the framework encompasses countries contributing significantly to the global economy, India has chosen to participate in three of the four key IPEF pillars, withholding engagement with the trade component.
IPEF at a Glance:
The IPEF is a collaboration initiated jointly by the United States and partner countries in the Indo-Pacific region. It represents a formidable economic bloc, constituting 40% of global GDP and 28% of global trade in goods and services. The framework is structured around four essential pillars, which address trade, supply chains, clean economy, and fair economy, encompassing issues such as taxation and anti-corruption.
India's Selective Participation:
India has committed to the first three pillars of IPEF but has not yet decided on joining the trade pillar. Negotiations among member nations are actively ongoing to establish separate agreements on each of these pillars. Progress has already been made on supply chain resilience, with India presently seeking domestic approval for this agreement. Conversations concerning the clean economy and fair economy pillars are presently underway, with discussions ongoing in Kuala Lumpur, Malaysia, from October 15 to 24. The commerce ministry is leading these negotiations.
The Trade Pillar Dilemma:
India's government is closely monitoring developments, collecting feedback, and examining convergences regarding the prospect of joining the trade pillar. Definitive decisions on participating in this pivotal aspect of IPEF will be considered in due course, following the conclusion of each round of negotiations.
The core objectives of the Indo-Pacific Economic Framework revolve around creating a conducive environment for enhancing trade and investment, building resilient supply chains, and promoting sustainable development.
Negotiations are currently centered on the clean economy and fair economy pillars. It is expected that discussions on these topics will conclude by October 25, with a significant agreement anticipated during the ministerial meeting scheduled for November 13-14 in San Francisco.
Domestic Policy Considerations:
IPEF's membership includes a diverse array of countries, such as Australia, Brunei Darussalam, Fiji, India, Indonesia, Japan, the Republic of Korea, Malaysia, New Zealand, Philippines, Singapore, Thailand, the United States, and Vietnam. India maintains the option to join the trade pillar whenever it deems suitable.
Experts in trade matters have advised that India should ensure that its participation in IPEF does not compromise its freedom to pursue domestic policies supporting self-reliance, particularly in sectors like green products.
IPEF is an initiative led by the United States, aimed at negotiating rules to tackle the challenges of the 21st century and promote fair and resilient trade. Member countries have the discretion to select the pillars in which they wish to participate. India continues to closely assess the situation, critically evaluating its options as each round of IPEF negotiations comes to a close. Their focus remains on addressing concerns and safeguarding their interests within the framework.