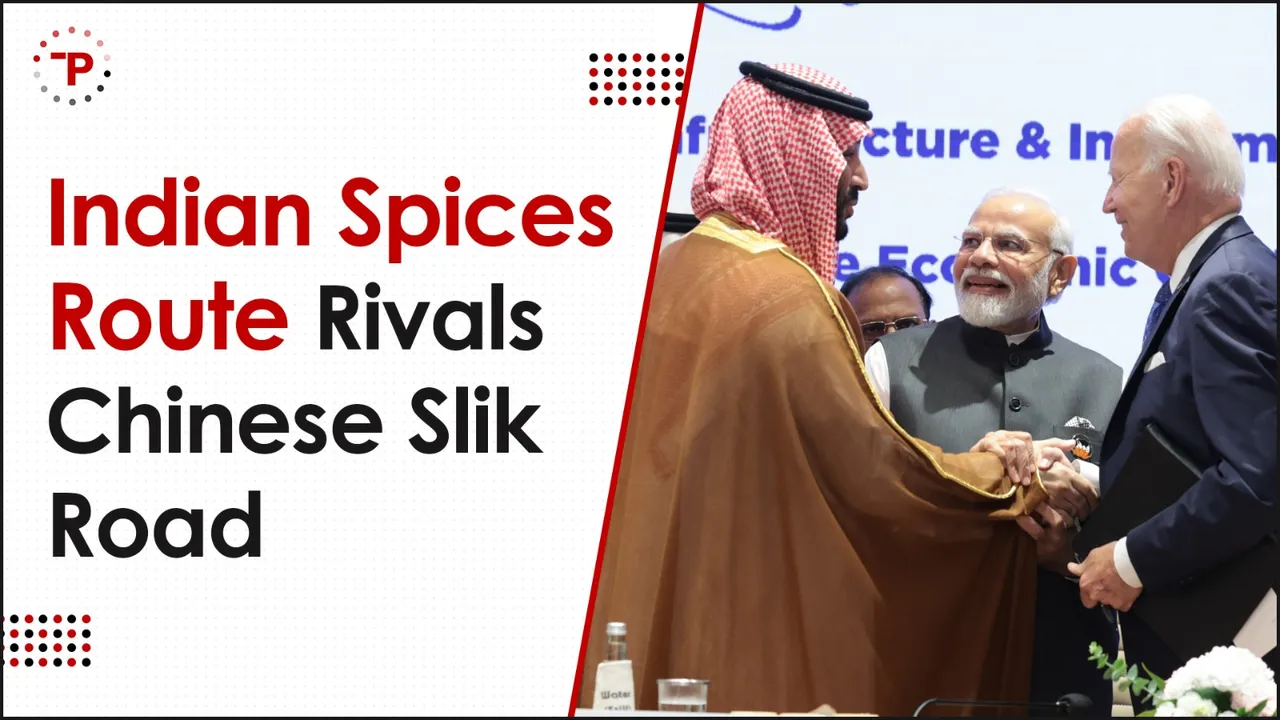 In a strategic move poised to reshape global trade, India is set to unveil its ambitious India-Middle East-Europe Economic Corridor, often referred to as the Middle East Corridor. This monumental initiative, supported by influential leaders and nations, including US President Joe Biden, Saudi Arabian Crown Prince Mohammed bin Salman, and UAE President, aims to create a new Silk Road, competing with China's Belt and Road Initiative (BRI).
Strong Backing from Global Leaders
Prime Minister Narendra Modi played a pivotal role in garnering international support for the project. Italy, a G-7 power, is on the verge of withdrawing from China-sponsored BRI, and the backing of US President Joe Biden and Saudi Arabian Crown Prince Mohammed bin Salman signifies a significant diplomatic achievement for India.
The UAE President, a close ally of India, has also been a prominent promoter of the project, highlighting the potential for the Arabian Peninsula to serve as an economic bridge between India and Europe. France's Emmanuel Macron, along with Germany and Italy, and the European Commission, have joined hands in support of this groundbreaking initiative.
Two Distinct Corridors
The Middle East Corridor consists of two distinct corridors. The East Corridor connects the Indian port of Mundra on the west coast to the Fujairah port. It then utilizes a railroad that traverses through Saudi Arabia and Jordan to transport goods in standardized containers to the Israeli port of Haifa. The West Corridor extends from Haifa, connecting Indian goods to various ports in Europe, including Marseille in France and ports in Italy and Greece.
Near-Completion of the Corridor
The Middle East Corridor is on the brink of activation, with only a small stretch of railroad in Saudi Arabia yet to be constructed. This ambitious project holds the potential to connect countries like Vietnam, Thailand, Myanmar, and Bangladesh to the corridor, provided Myanmar allows a dedicated port for this initiative.
Bangladesh, with six railway exit points to India, could greatly benefit from the corridor, facilitating the transportation of goods to Europe via the Mundra port.
Challenges to the Chinese BRI
This strategic move by India comes at a critical juncture when the Chinese Belt and Road Initiative (BRI) is facing increasing scrutiny. Not only are recipient countries struggling to repay high-interest loans, but some are being compelled to swap debt for equity in BRI projects. Nations like Pakistan, Sri Lanka, Kenya, Zambia, and others are grappling with mounting debts to China, jeopardizing their economic and political stability.
For instance, the China-Pakistan Economic Corridor has plunged Pakistan into a deep economic and political crisis, with provinces like Balochistan and Sindh expressing discontent, and Khyber-Pakhtunkhwa facing threats from Tehreek-e-Taliban Pakistan terrorists. Sri Lanka faces a similar dire situation with underutilized Chinese-built infrastructure, and its economic survival hinges on IMF loans and support from the United States.
A New Global Supply Chain
With the strong backing of the United States, UAE, Saudi Arabia, and India, the Middle East Corridor has the potential to not only rival but also surpass the BRI as the backbone of global trade based on new global supply chains. President Biden's commitment to the Middle East Corridor, under the Partnership for Global Infrastructure and Investment initiative, signals the United States' dedication to this transformative project. Additionally, the project aligns with the global bio-fuels alliance, further cementing its position as the new Silk Road.
The India-Middle East-Europe Economic Corridor, with its imminent activation and international support, marks a significant shift in global trade dynamics. As it competes with China's BRI, this new spice route has the potential to reshape the global economic landscape, offering alternative opportunities for nations to engage in mutually beneficial trade. With India at the helm of this transformative initiative, the Middle East Corridor emerges as a potent force that could redefine the future of global commerce.