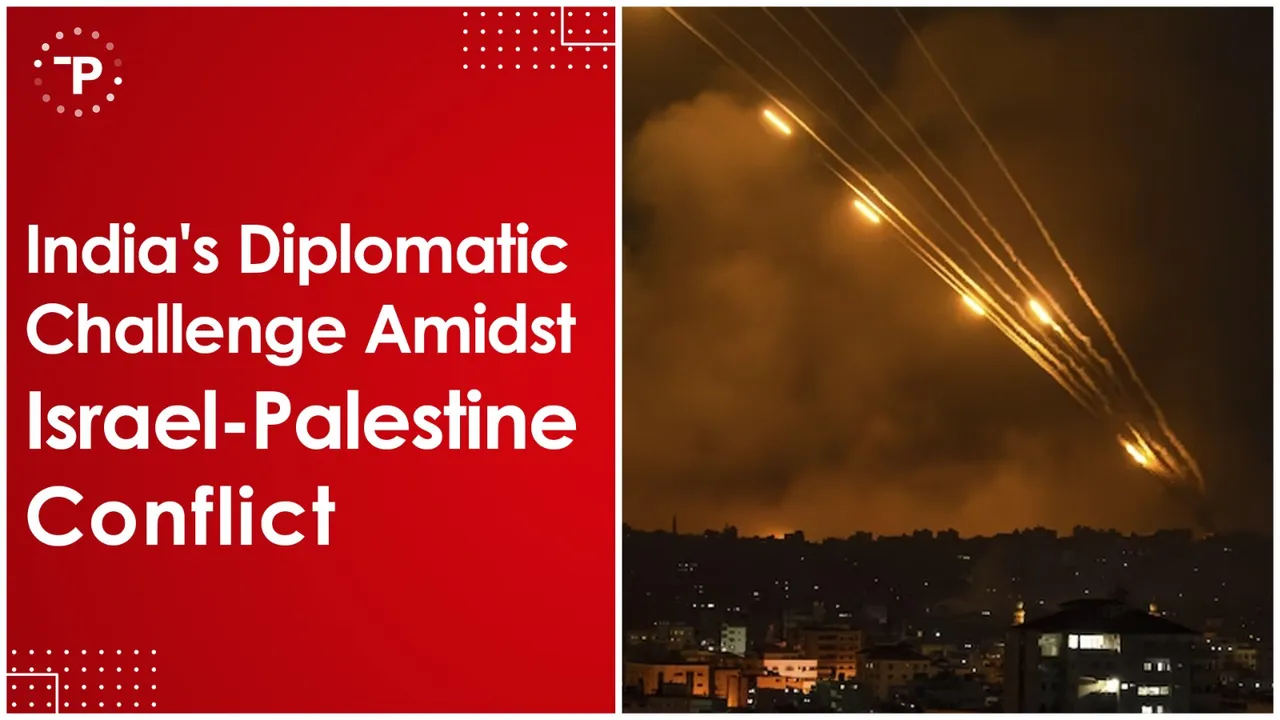 The Israel-Gaza violence comes less than a month after India, along with the US, Saudi Arabia, the UAE, France, Germany, Italy and the European Union announced the India-Middle East-Europe Economic Corridor during the G20 Summit in New Delhi.
Prime Minister Modi had then said the connectivity project will be the basis of world trade for centuries. The project was also seen as a counter to China's Belt and Road Initiative project.
Amid reports of Hamas' rocket strike on Israel cities, Prime Minister Narendra Modi posted on X that he was "deeply shocked by the news of terrorist attacks". "Our thoughts and prayers are with the innocent victims and their families. We stand in solidarity with Israel at this difficult hour," he added. The External Affairs Ministry has not come out with an official statement so far. External Affairs Minister S Jaishankar and the ministry's handle have only retweeted the Prime Minister's post. 
So, the  violence in Israel has sharply divided public opinion, with one camp slamming the terrorist attack and the other alleging that Israel's actions in Palestine had triggered this pushback. Against this backdrop, the Prime Minister's post is seen as a clear message of support for Tel Aviv.
India's Middle East Initiatives & Saudi Arabia's Dilemma
The flare-up in violence has put Saudi Arabia in a spot at a time when the US was mediating the normalisation of its ties with Israel. Hamas' attack in seen as a clear message to Riyadh. Saudi Arabia has called for an immediate halt to the violence and has said the kingdom had been warning of an "explosive situation as a result of the continued occupation and deprivation of the Palestinian people's legitimate rights", hinting that it would not pursue normalisation while overlooking Palestinian interests. 
India's relations with Saudi Arabia have seen a boost under the Narendra Modi government, with more bilateral visits and the signing of the Strategic Partnership Council (SPC) Agreement. PM Modi was conferred with the Kingdom's highest civilian honour. The Prime Minister's visits to Jordan, Oman, UAE, Palestine, Qatar and Egypt have underlined India's focus on maintaining a key presence in the Middle East.
While Saudi Arabia is India's fourth largest trade partner, New Delhi is Tel Aviv's biggest arms customer. Ties between New Delhi and Tel Aviv have seen a major boost under the Narendra Modi government. In 2017, Prime Minister Modi became the first Indian Prime Minister to visit Israel. His visit was followed by an India trip by Israel Prime Minister Benjamin Netanyahu the next year. The government's cautious approach to the Israel horror underlines the high stakes.
India's Evolving Middle East Policy
India's approach to the Middle East has undergone a significant transformation, transitioning from primarily trade-focused to a comprehensive strategy encompassing strategic and political dimensions. This shift in policy is driven by India's ambition to counter China and establish itself as a prominent global player in the region.
India's stance towards the Middle East was marked by its delayed recognition of the State of Israel, which only occurred in 1950. This delay was due to India's own experience with religious partition during its independence. Prime Minister Jawaharlal Nehru had explained that India refrained from recognizing Israel "because of our desire not to offend the sentiments of our friends in the Arab countries."
In the early years, India's engagement with the Middle East was centered around its support for the Palestine Liberation Organisation (PLO) under the leadership of Yasser Arafat. The governments of Indira Gandhi and Rajiv Gandhi continued to extend support to the Palestinian cause. However, this alignment with Palestine drew domestic criticism, particularly after the Arab world adopted a neutral stance during the 1962 India-China War and supported Pakistan in the conflicts of 1965 and 1971.
Two pivotal factors triggered a significant shift in India's Middle East strategy. Firstly, Iraq's invasion of Kuwait in 1990 disrupted regional stability. Secondly, the end of the Cold War and the dissolution of the Soviet Union altered global power dynamics, compelling India to adapt its foreign policies to the new realities.
In 1992, New Delhi established full diplomatic relations with Israel, marking a crucial turning point in its Middle East engagement. The relationship between India and Israel grew stronger under the Atal Bihari Vajpayee-led BJP government. A notable demonstration of this was Israel's pivotal role in providing essential military support to India during the 1999 Kargil War, cementing their strategic partnership.
India continued to publicly express support for the Palestinian cause despite these ties with Israel, exemplified by then External Affairs Minister Sushma Swaraj's statement in 2014, emphasizing India's commitment to "fully support the Palestinian cause while maintaining good relations with Israel." Moreover, India hosted Palestine President Mahmoud Abbas in 2018, underscoring its willingness to engage with key stakeholders in the region
Complex Challenges for India
The current spate of violence threatens India's big outreach in the region and pushes it to pick a side, something New Delhi is not fond of owing to its trade and strategic interests.
During the Ukraine conflict, India had avoided taking sides and constantly stressed that dialogue and not violence is the way forward. India was also criticised for buying Russian oil at a time when the Vladimir Putin-dispensation was facing sanctions from the West. Dr Jaishankar had articulated New Delhi's position on the matter, emphasising that its focus was to get the best deal possible for its citizens. The problem at hand, however, is much more complex, owing to the depth of India's relations with the Middle East, whether they are strategic, economic or cultural.
China and Pakistan's Responses
China has said it was "deeply concerned" by the "escalation of tension and violence" between Israel and Palestine. While there are no specific bilateral problems between Tel Aviv and Beijing, the latter has opposed Israel's construction activities in West Bank and East Jerusalem. Pakistan Prime Minister Shehbaz Sharif has blamed Israel's "illegal occupation" for the cycle of violence in the region. "What else can one expect when Israel continues to deny Palestinians their legitimate right to self-determination and statehood?" he asked in a post on X.