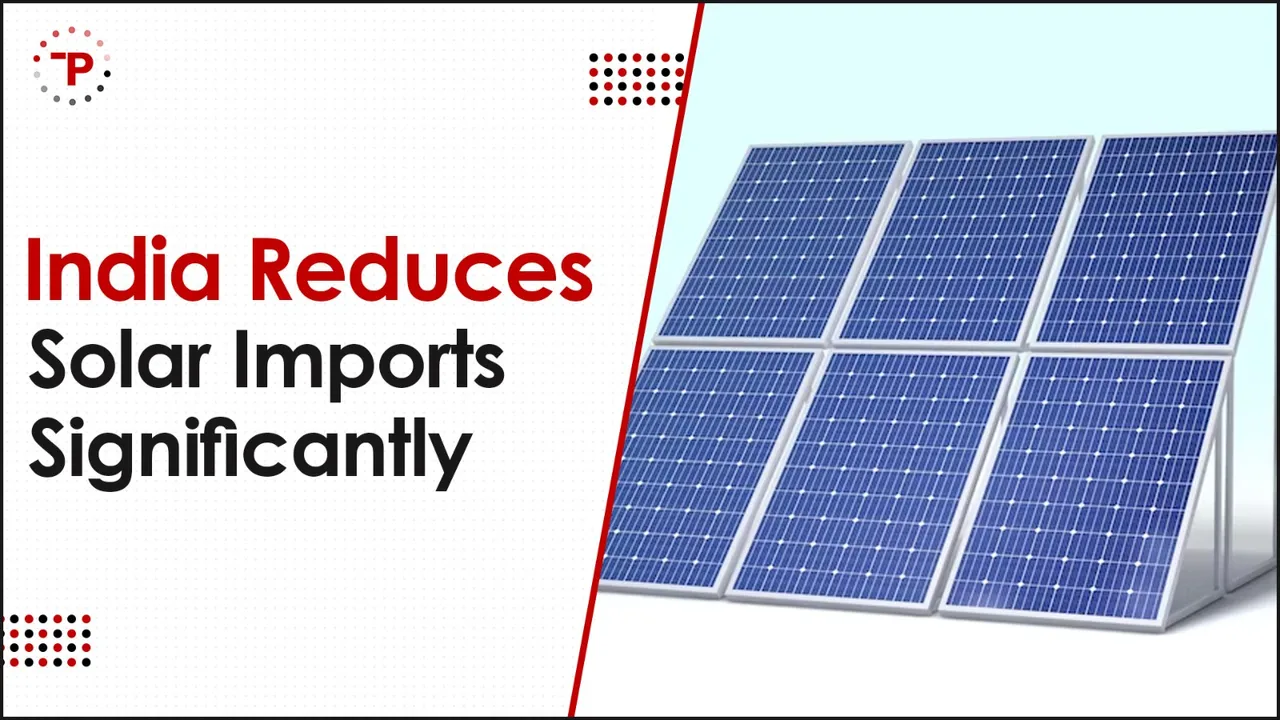 India has achieved a substantial 76% decline in solar module imports from China during the first half of 2023. This significant shift underscores India's dedication to achieving self-sufficiency in solar manufacturing, as revealed in a recent report by global energy think tank, Ember.
Comparing year-on-year data, India's solar module imports from China have fallen sharply, from 9.8 GW in the first half of 2022 to just 2.3 GW during the same period in 2023, according to Ember's report. This strategic shift, combined with the implementation of tariffs, demonstrates India's resolute commitment to reducing its reliance on imports while prioritizing the growth of its domestic manufacturing capabilities.
Policy Interventions Driving Domestic Manufacturing
Neshwin Rodrigues, an India Electricity Policy Analyst at Ember, highlights the diminishing dependence on Chinese solar modules in the post-2022 era, attributing it to domestic manufacturing gaining momentum due to recent policy interventions. The critical focus is establishing a conducive policy environment to ensure that solar installations align with India's National Electricity Plan.
India's Ambitious Solar Targets
Ember's report also mentions India's imposition of customs duties in April 2022, with a 40% tariff on solar modules and a 25% tariff on solar cells. These measures were enacted to curtail imports and foster local manufacturing—a move in alignment with India's broader goals of sustainability and energy self-reliance.
India's updated nationally determined contributions (NDCs), as revealed in the Ember report, commit to achieving 500 GW of installed power capacity from non-fossil fuel-based resources by 2030. Solar energy plays a pivotal role in this ambitious goal.
China's Expanding Solar Exports
In contrast, Ember's data points to China's solar panel exports growing by 3% during the first half of 2023, totaling 114 GW shipped worldwide, a significant increase from the 85 GW in the preceding year.
Ember's report notes that over half of China's solar module exports in the first half of 2023 were destined for Europe. Europe experienced substantial absolute growth with exports from China increasing by 47% year-on-year, reaching a total of 65 GW during the first half of 2023 compared to 44 GW in the same period the previous year.
Rapid Expansion in Africa and the Middle East
The Ember report also highlights Africa's impressive increase of 187% in solar panel imports from China during the first half of 2023, contributing to Africa's overall growth of 187%. Following closely, the Middle East experienced a 64% growth in solar panel imports compared to the previous year.
Despite the surge in solar panel exports, Ember's report reveals a widening gap between solar module exports and installed PV capacity globally. This gap is attributed to stockpiling in warehouses and challenges related to installation and grid integration.
Sam Hawkins, data lead at Ember, emphasizes the need for accelerated installation and grid integration to match the increasing module supply, highlighting the importance of policies prioritizing the rapid scaling of installation and grid integration to keep pace with the growing supply of solar modules.