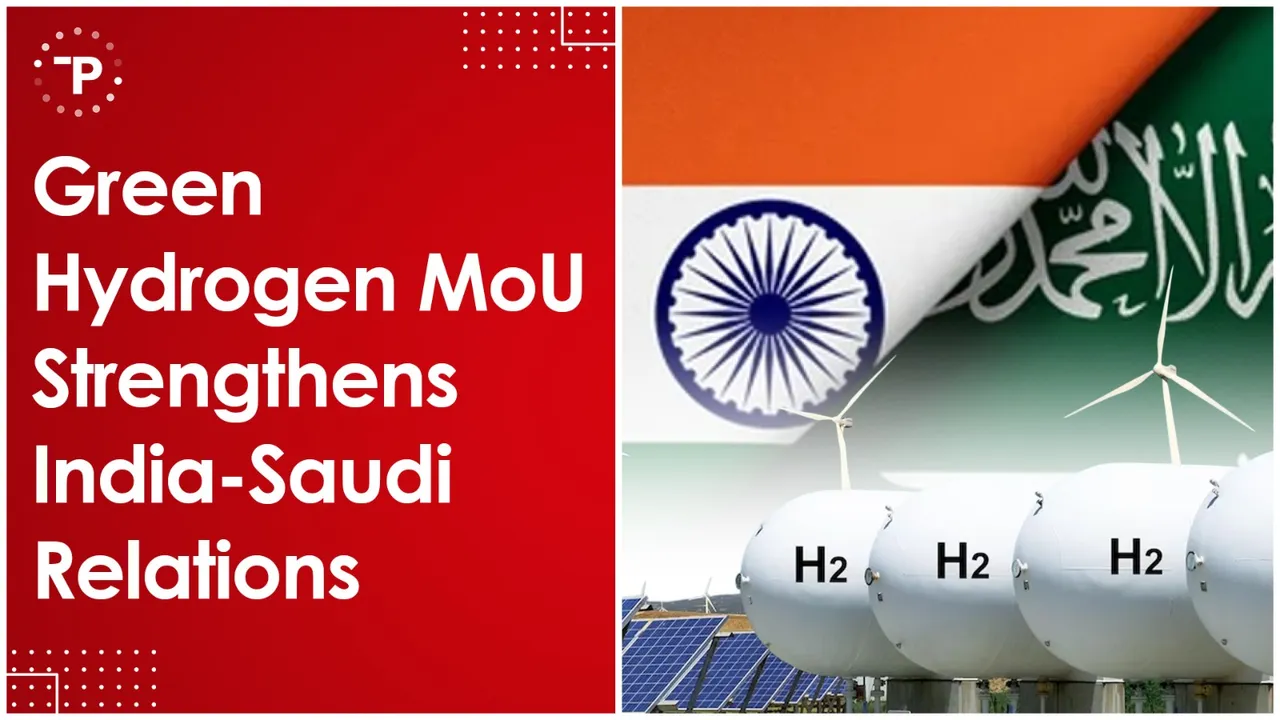 India and Saudi Arabia have inked a Memorandum of Understanding (MoU) during the MENA Climate Week 2023. This pact focuses on two crucial aspects: the development of green hydrogen supply chains and the enhancement of power grid interconnection.
The MoU, signed by India's Union Minister for Power and New & Renewable Energy, RK Singh, and Saudi Arabia's Minister of Energy, Abdulaziz bin Salman Al-Saud, outlines a framework for cooperation that encompasses various facets of the energy sector.
1. Electrical Interconnection: The primary goal is to establish an infrastructure for electrical interconnection, allowing for the exchange of electricity during peak demand and emergencies.
2. Co-Development of Energy Projects: Both nations are committed to jointly developing energy projects, with a particular focus on harnessing renewable energy sources.
3. Green and Clean Hydrogen Production: The MoU promotes collaboration in the co-production of green and clean hydrogen, a pivotal component of sustainable energy production.
4. Secure Supply Chains: Ensuring the reliability and resilience of supply chains for materials used in green hydrogen and renewable energy is another crucial aspect of the agreement.
Grid Interconnectivity for a Sustainable Energy Future
This latest development aligns with India's strategic vision to interconnect its national power grid with key partners like Saudi Arabia, the UAE, and Singapore through subsea cables. This initiative carries various benefits:
Shared Power Resources: By pooling power resources across regions, nations can significantly reduce the need for costly renewable energy storage solutions.
Enhanced Grid Reliability: Grid interconnectivity leads to improved grid reliability, offering a stable and consistent energy supply.
Supporting India's One Sun One World One Grid Initiative
India's pursuit of grid interconnectivity mirrors its ambitious "One Sun One World One Grid" (OSOWOG) initiative. This global power grid plan seeks to connect countries worldwide, fostering international collaboration in the energy sector.
B2B Business Summits and Value Chain Development
To facilitate comprehensive cooperation in the energy sector, India and Saudi Arabia have agreed to host B2B Business Summits and maintain regular interactions. These efforts will play a pivotal role in establishing complete supply and value chains.
At the MENA Climate Week 2023, India underscored its prominent role in the global energy landscape:
Emission Reduction Goals: India is committed to reducing the emission intensity of its GDP by 45% by 2030, showcasing its dedication to addressing climate change.
Net Zero by 2070: India's long-term objective is to achieve Net Zero emissions by 2070, aligning with international efforts to combat climate change.
Global Biofuels Alliance Encouragement
India also encouraged countries in the Middle East and North Africa (MENA) region to join the recently established Global Biofuels Alliance. Launched during the G20 Summit in New Delhi, this alliance aims to promote sustainable biofuels development and international cooperation in the biofuels sector.
The Global Biofuels Alliance has received backing from 19 countries and 12 international organizations, with India, Brazil, and the United States serving as founding members. Notably, Saudi Arabia, a key oil producer in the region, has yet to join the alliance.