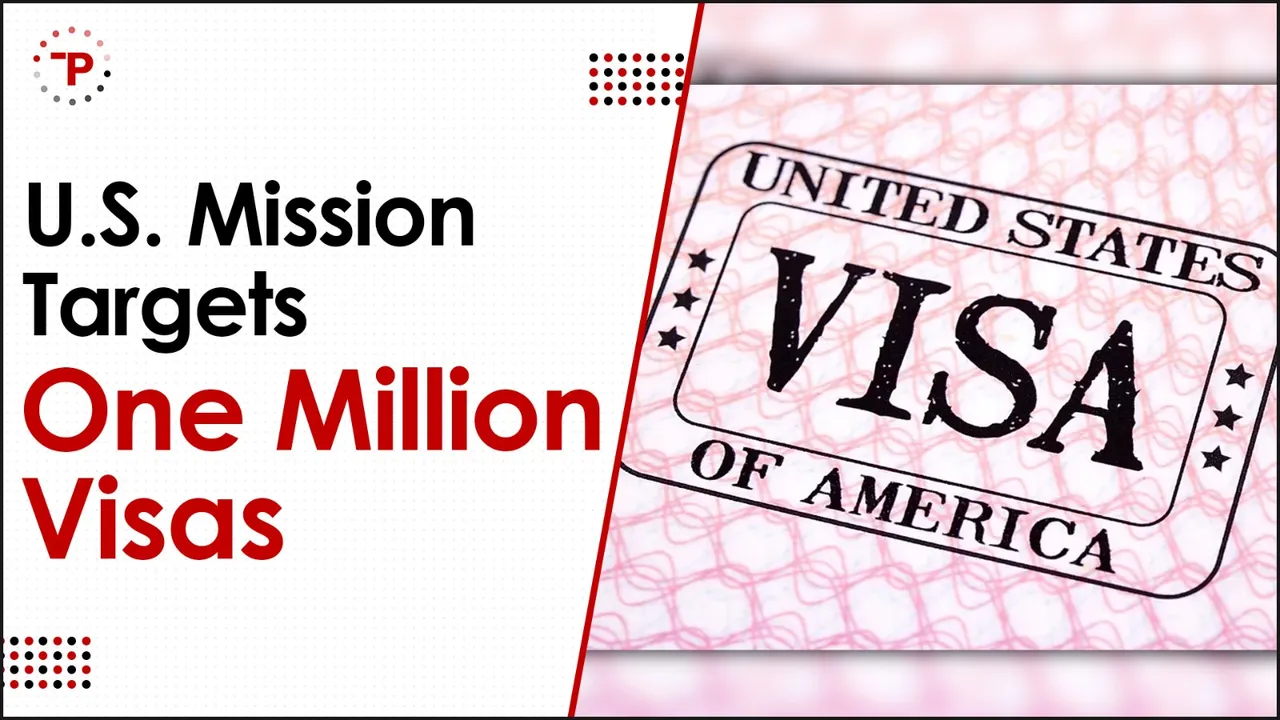 In a significant move aimed at enhancing bilateral relations between the United States and India, the U.S. Mission has set an ambitious target to process one million visas for Indian applicants by the end of 2023. The mission, which includes offices in key Indian cities such as Mumbai, Chennai, Hyderabad, Kolkata, and Delhi, has been implementing various measures to achieve this goal.
Weekend Visa Processing
This year, the U.S. embassy has taken proactive steps to expedite the visa processing system by opening its doors on weekends. This strategic move not only helps reduce wait times but also accommodates the growing demand from Indian applicants.
Recognizing the importance of efficient visa processing, the U.S. Embassy has bolstered its workforce by adding more staff members. Additionally, they have expanded the scope of drop-box facilities and introduced interview slots during the weekends, further streamlining the application process.
Remote Processing Innovations
One noteworthy innovation has been the implementation of remote processing for interview waiver cases. This feature benefits applicants with previous U.S. visas, eliminating the need for in-person interviews and expediting the visa issuance process.
To meet the increased demand for visa processing, the U.S. Department of State deployed temporary consular officers from Washington and other embassies to India. These officers have contributed significantly to the mission's processing capacity during the first quarter of this year.
U.S. India Friendship
U.S. Ambassador to India Eric Garcetti emphasized the importance of the U.S.-India relationship, highlighting that the ties between the two nations are stronger than ever. He expressed the mission's commitment to continue breaking records in visa processing to facilitate Indian applicants' travel to the United States.
In the previous year, more than 1.2 million Indians visited the United States, making it one of the most robust travel relationships globally. The U.S. embassy reported that Indians now constitute over 10 percent of all visa applicants worldwide, with 20 percent seeking student visas and 65 percent applying for H&L-category employment visas.
The U.S. Mission has also implemented strategies to enhance efficiency. This includes extending interview waiver eligibility to new visa categories and leveraging remote work to involve staff worldwide in Indian visa processing. In early 2024, a pilot program is set to launch, allowing qualified H&L-category employment visa applicants to renew their visas domestically.
Both countries have reiterated their commitment to strengthening their "close and enduring" partnership. Improved visa processing is just one example of the U.S. Mission's dedication to fortifying this bond.
According to a spokesperson from the embassy, "The U.S. Mission has already processed more than two lakh applications at our Embassy and Consulates in India, and we are on track to hit our goal of processing more than a million non-immigrant visa applications in 2023."
Ambitious Visa Processing Goal
The United States aims to process one million visa applications from India, encompassing various non-immigrant visa categories. Last year, approximately nine million non-immigrant visa applications were processed worldwide, covering visas for business, travel, students, and crew members.
Deputy Assistant Secretary for Visa Services in the Bureau of Consular Affairs, Julie Stufft, emphasized that India is the top priority for the U.S. in terms of visa processing. She noted a significant rise of around 36% in visa processing across the country.
Stufft also announced an upcoming initiative: the Visa stamping program, which will be conducted domestically within the U.S. for visa renewals, including H-1 and L-1 visas.
To further expedite the visa application process, the U.S. Mission in India launched a series of special Saturday interview days starting on January 21. This initiative aims to reduce wait times for first-time visa applicants and enhance the overall experience for Indian applicants seeking to travel to the United States.