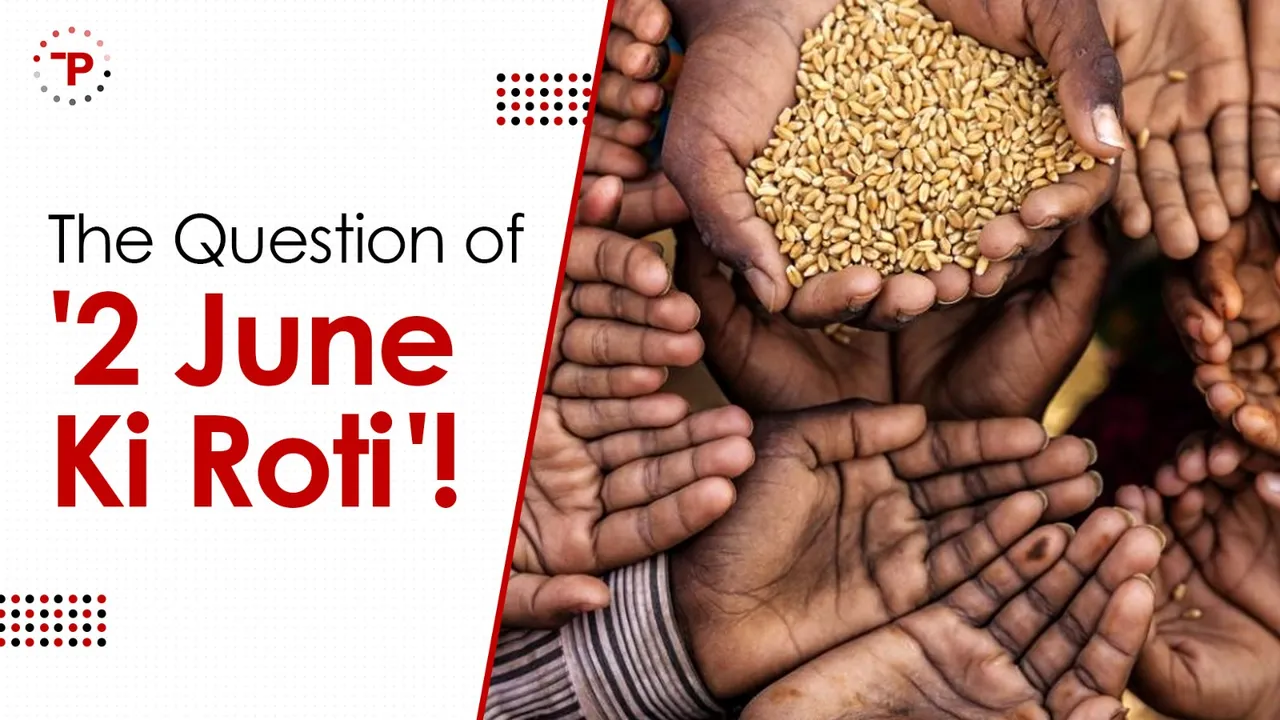 Today, June 2, is a day when the phrase '2 June ki Roti' gets used extensively and has taken social media by storm. Proverbs and jokes related to this date have flooded the internet. We have heard from our elders and read books about the fortunate ones who receive 'Do June Ki Roti' (two meals a day). 
According to the 2022 Global Hunger Index (GHI), India ranks 107th out of 121 countries in the list. With a score of 29.1, India has a level of hunger that is categorized as serious.
State of Hunger in India
India has achieved self-reliance in food production spanning more than four decades, but this does not guarantee food security. In India, despite having surplus food, hunger still persists. The National Family Health Survey (NFHS) conducted in 2019-21 shows that a considerable proportion of young children in India face food insecurity, which raises concerns about their development and future well-being. To achieve the Sustainable Development Goal (SDG) 2 of zero hunger, India must take strategic initiatives to eliminate food insecurity and ensure affordable access to nutritious food for all.
The statistics from NFHS survey conducted in 2019-21 reveal a grim reality. Among mothers with a child aged 6-23 months, 18% reported that their child had not eaten any food in the 24 hours before the survey, which is referred to as "zero-food" and raises serious concerns related to severe food insecurity. Going without food for an entire day at this critical period of a child's development can have severe implications. Additionally, India's child wasting rate (low weight for height) is worse than previous levels, and the prevalence of undernourishment has risen in the country.
The current measures to address these issues have limitations. Measures of anthropometric failure, such as stunting and wasting, are inadequate for assessing the extent of nutritional deprivation among young children in India. Specific deprivations in food groups have been identified, with a significant number of children not consuming protein-rich foods, grains, or dairy on a daily basis.
Measures to Eliminate Hunger
To tackle these challenges, the Indian government has launched initiatives such as Poshan 2.0, an umbrella scheme covering various programs aimed at improving nutritional content, delivery, and outcomes. The Poshan Abhiyaan, also known as the National Nutrition Mission, targets the reduction of stunting, undernutrition, anemia, and low birth weight among children and women. However, more concerted efforts are needed to achieve these goals.
Furthermore, it is essential to address the economic condition of farmers who play a crucial role in feeding the nation. Despite enduring hardships, farmers have struggled for their rights, as seen in the recent protests against agricultural laws. Both state and central governments must take earnest measures to uplift the economic condition of farmers and support their cause.
Origins of 2 June ki Roti
The phrase '2 June Ki Roti' holds historical and literary significance. It originated in Awadhi, a language spoken in North India, and has been used by renowned literary figures such as Munshi Premchand and Jaishankar Prasad. It symbolizes the struggles faced by families during the summer months when droughts lead to scarcity of fodder and water. It serves as a reminder of the hardships endured to ensure two meals a day.
As we celebrate this trending topic on June 2, let us not forget to appreciate the food on our plates and work towards ensuring a better future for those who work tirelessly to feed the nation. It is crucial for both the public and the government to prioritize the well-being of farmers and take steps to eradicate hunger and food insecurity in India.