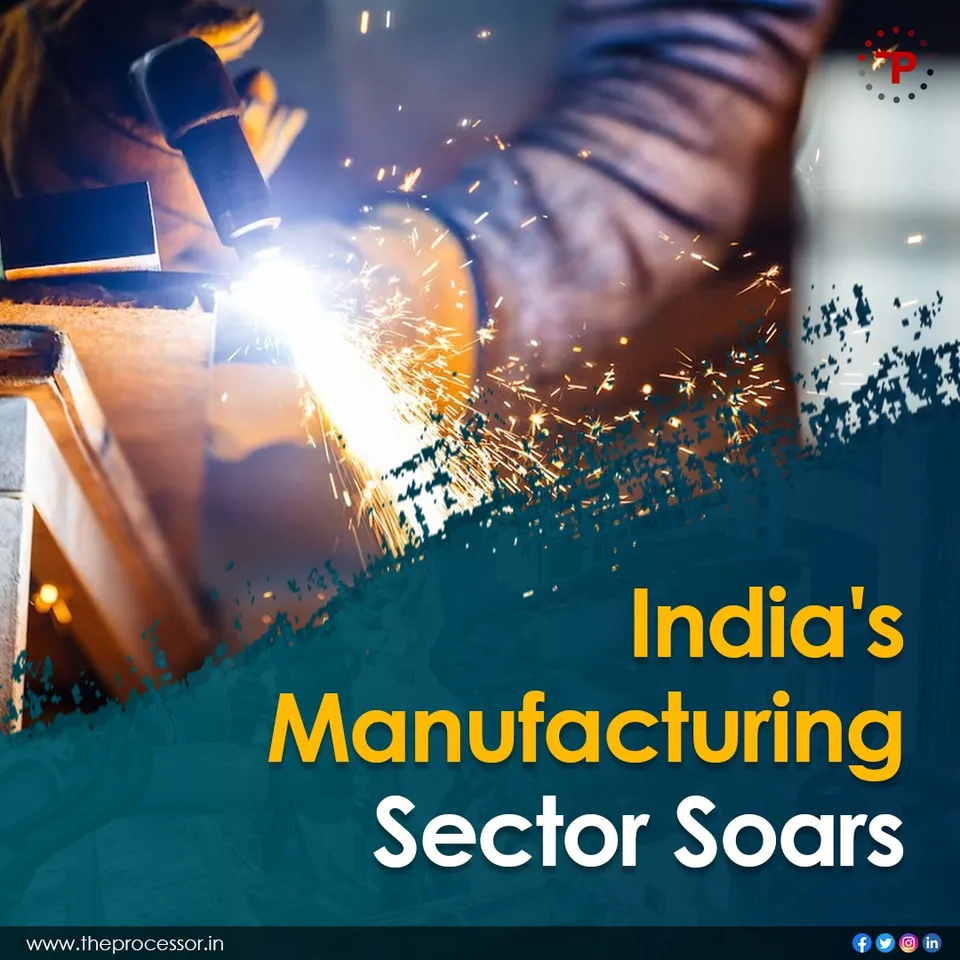 According to a monthly survey, manufacturing activities in India surged to a 31-month high in May, supported by a stronger increase in new orders and favorable market conditions. The seasonally adjusted S&P Global India Manufacturing Purchasing Managers' Index® (PMI®) rose from 57.2 in April to 58.7 in May, indicating the sector's strongest improvement since October 2020.
Expanding Domestic and International Demand:
The PMI data for May showed overall operating conditions improving for the 23rd straight month. The soaring sales showcased robust demand for Indian-made products both domestically and internationally. The upturn in domestic orders strengthened the foundations of the economy, while rising external business fostered international partnerships, bolstering India's global market position. This combined growth also generated more employment opportunities in May. "While the upturn in domestic orders strengthens the foundations of the economy, rising external business foster international partnerships and boost India's position in the global market. Combined, they also generated more employment opportunities in May," said Pollyanna De Lima, Economics Associate Director at S&P Global Market Intelligence, as quoted by PTI.
Increased Production, Employment, and Purchases:
Companies experienced the quickest expansion in international sales in six months, indicating their competitiveness in foreign markets. The surge in sales led to stronger increases in production, employment, and quantities of purchases. Supply chain conditions improved, leading to a record accumulation in input inventories. Manufacturers' better preparedness in managing supply chains allowed them to mitigate potential disruptions and maintain a steady flow of production, showcasing the industry's resilience.
Cost Pressures and Output Charges:
Cost pressures remained historically mild, but demand strength facilitated a solid and quicker increase in output charges. Improved supply chains and subdued global demand for inputs helped curb input price inflation in May. However, heightened demand and previously absorbed cost burdens resulted in a stronger upward revision to selling charges. While demand-driven inflation can erode purchasing power and create challenges for the economy, it could also lead to more interest rate hikes.
Enhanced Business Confidence and Growth Prospects:
Business confidence towards growth prospects improved to a five-month high in May. Positive publicity and demand resilience were among the reasons cited for the optimistic forecasts. The manufacturing sector's strong performance and its ability to navigate challenges instilled confidence in the business community. This indicates positive prospects for future growth and economic stability.
The S&P Global India Services PMI is compiled by S&P Global from responses to questionnaires sent to a panel of around 400 service sector companies. The panel is stratified by detailed sector and company workforce size, based on contributions to GDP. Data collection began in December 2005.