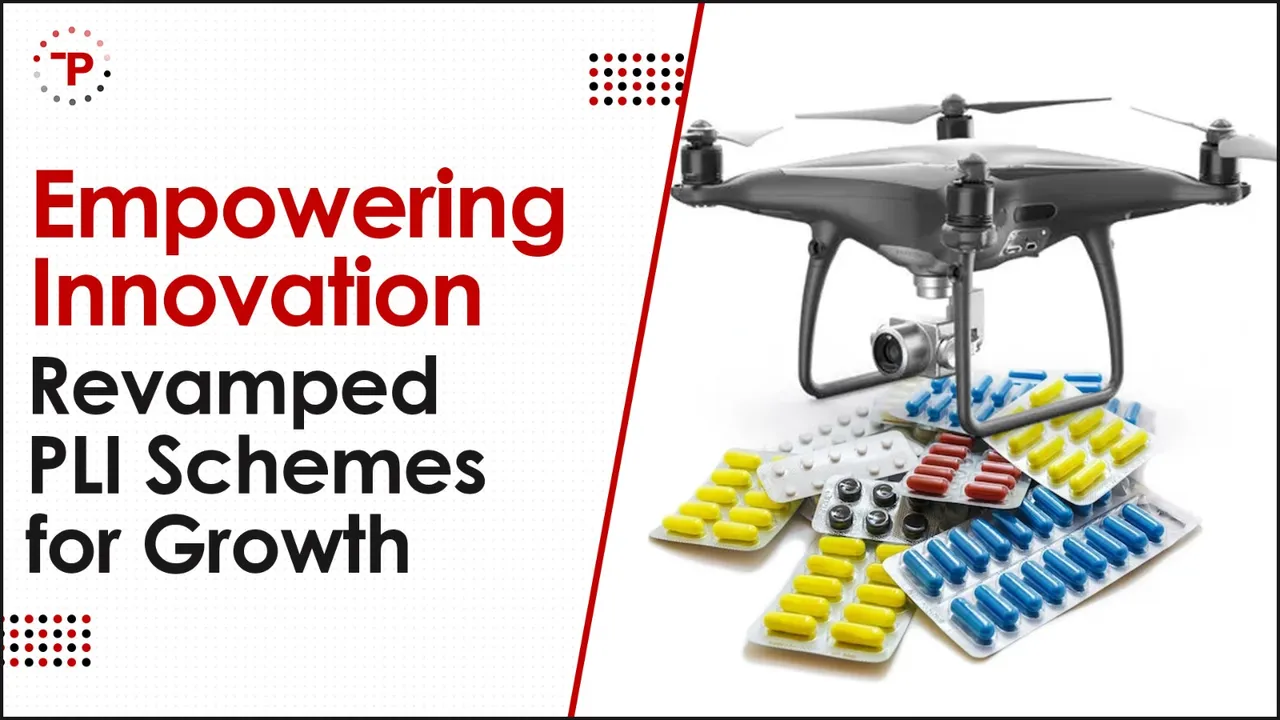 In a move aimed at bolstering India's manufacturing sector and fostering innovation, the government is set to make crucial amendments to the Production Linked Incentive (PLI) schemes for drones, pharmaceuticals, and technical textiles. 
The decision comes after a thorough review of the 14 existing PLI schemes conducted last month by the Cabinet secretary, taking into account industry demands. These changes are expected to provide a fresh impetus to these key sectors and further India's quest for self-reliance and economic growth.
Boosting the Drone Industry
One of the prominent changes on the horizon is an increase in the allocation of the PLI scheme dedicated to the drone sector. Officials have observed a promising uptick in the offtake of drones, leading them to consider ramping up financial support for this burgeoning industry. Initially announced in September 2021 with an allocation of ₹120 crore, this funding was already double the industry's turnover in 2020-21. As of the current fiscal year (2022-23), approximately ₹30 crore has already been disbursed to drone and parts manufacturers under the PLI scheme.
Twelve drone manufacturers and eleven component makers have successfully qualified for this scheme, which is set to run until the end of the financial year 2025. The forthcoming increase in allocation underscores the government's commitment to nurturing India's drone ecosystem and reinforcing its position as a global player in this rapidly evolving technology sector.
Pharma Sector: Extending Incentive Availability
In the pharmaceutical sector, where innovation and research are paramount, changes are being contemplated to extend the time frame for availing incentives. The PLI scheme for the pharmaceutical industry boasts an impressive outlay of ₹15,000 crore and was originally intended to run for a duration of six years. 
However, with the complexities of research and production in the pharmaceutical field, there have been delays in some plants coming online. Consequently, industry stakeholders have voiced their concerns and requested adjustments to the timeline for the scheme.
The PLI application window for the pharmaceutical sector remains open, welcoming eligible applicants to participate in this transformative initiative. These prospective changes are expected to provide additional flexibility and support to pharmaceutical companies striving to develop cutting-edge drugs and bolster India's position as a pharmaceutical powerhouse.
Technical Textiles: Clarity and Expansion
The PLI scheme for technical textiles, another vital component of India's manufacturing landscape, is also in line for revisions. Officials are diligently working to provide more clarity on the categories and products that qualify for incentives. Moreover, they are exploring the possibility of expanding the definition of certain products within the technical textiles segment.
This move will not only stimulate growth within the technical textiles industry but also enable a broader range of manufacturers to benefit from the PLI scheme. It aligns with India's commitment to promoting innovation, research, and development in sectors that are pivotal for the nation's economic progress.
These forthcoming changes to the PLI schemes for drones, pharmaceuticals, and technical textiles are emblematic of the government's dynamic approach to fostering innovation and bolstering domestic manufacturing. By responding to industry feedback and adjusting these schemes to meet evolving needs, India aims to fortify its position as a global manufacturing hub while nurturing sectors that are vital to its economic growth and self-reliance.