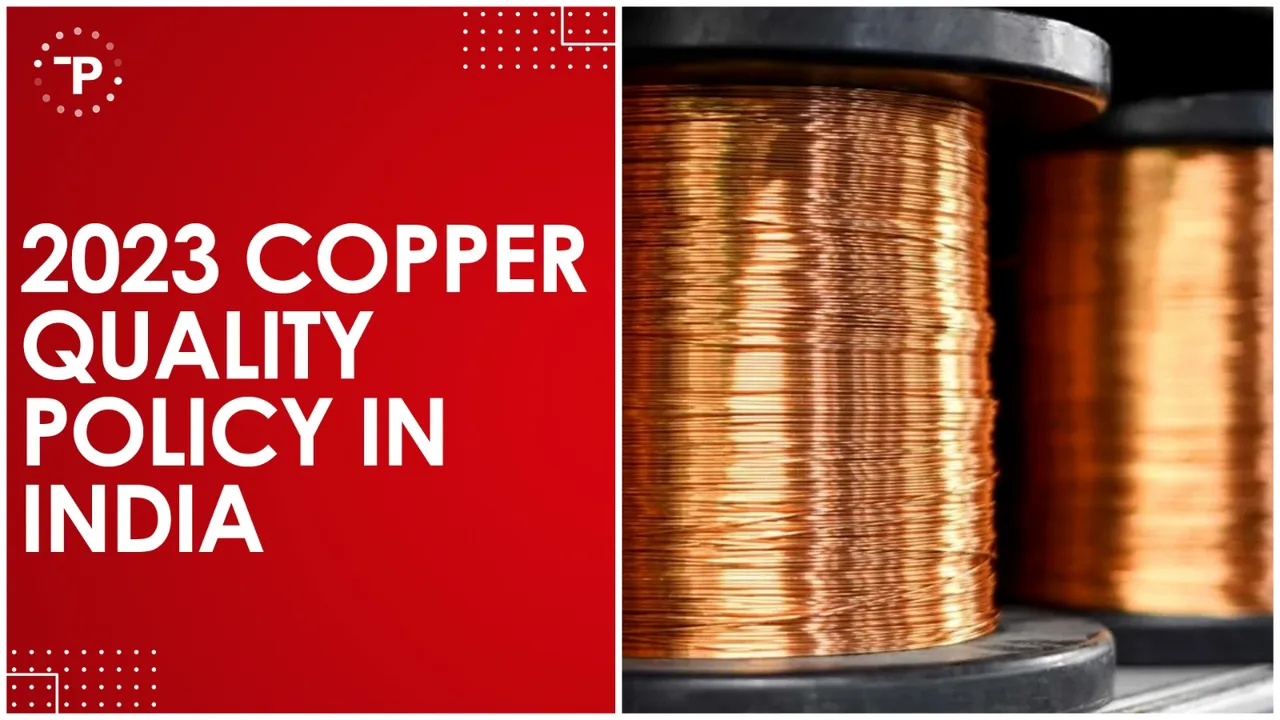 The government has introduced mandatory quality norms for copper products, drums, and tin containers. These stringent quality control measures aim to combat the import of substandard goods and safeguard the interests of consumers and the environment.
The Department for Promotion of Industry and Internal Trade (DPIIT) issued two vital notifications on October 20: the Drums and Tins (Quality Control) Order, 2023, and the Copper Products (Quality Control) Order, 2023. These notifications dictate that products falling within their purview cannot be produced, sold, traded, imported, or stocked unless they bear the Bureau of Indian Standards (BIS) mark.
Upholding Copper Product Quality
To provide industries with ample time for compliance, these quality control orders will come into force six months from the date of notification publication. This transition period acknowledges the complexities involved in adapting to the new quality standards.
Copper and its alloys are instrumental in numerous sectors, including power generation, transmission, telecommunications, and electrical circuits. Therefore, maintaining the purity and quality of copper products is non-negotiable. The scope of these orders encompasses nine key copper products such as wire rods for electrical applications and copper tubes for refrigeration and air-conditioning purposes.
Supporting Small and Micro Industries
Recognizing the vital role played by small and micro industries in the country's economy, the DPIIT has taken steps to facilitate their transition to the new quality standards. Small industries are granted an additional three months, while micro industries are given an additional six months to meet compliance requirements.
Drums and tins are instrumental in the storage and transportation of hazardous substances in industries like waste management, healthcare, and food services. These regulations are essential in ensuring that these containers meet rigorous quality standards, preventing leakages, adulteration, and fire damage.
Through collaboration with the Bureau of Indian Standards (BIS) and industry stakeholders, DPIIT has actively identified key products for Quality Control Orders (QCO). This collaborative effort has led to the development of over 60 new QCOs covering 318 product standards.
Legal Consequences for Violations
Non-compliance with the provisions of the BIS Act can result in legal penalties, including imprisonment for up to two years or fines starting at Rs 2 lakh for the first offense. 
In case of second and subsequent offences, the fine will increase to a minimum of ₹5 lakh and extend up to 10 times of the value of goods or articles.
The government's initiatives extend beyond these QCOs to create awareness about quality among both consumers and manufacturers. This includes the establishment of quality testing laboratories and product manuals, fostering a comprehensive quality ecosystem.
Mandatory Quality Control Orders play a crucial role in curbing the influx of substandard imports, eliminating unfair trade practices, and ensuring the safety and well-being of consumers and the environment. These initiatives, combined with the development of testing facilities, product guidelines, and accreditation of testing laboratories, collectively support the evolution of a robust quality framework in the nation. Notably, similar orders have been issued for various goods such as smart meters, welding rods, cookware, fire extinguishers, electric ceiling fans, and domestic gas stoves.