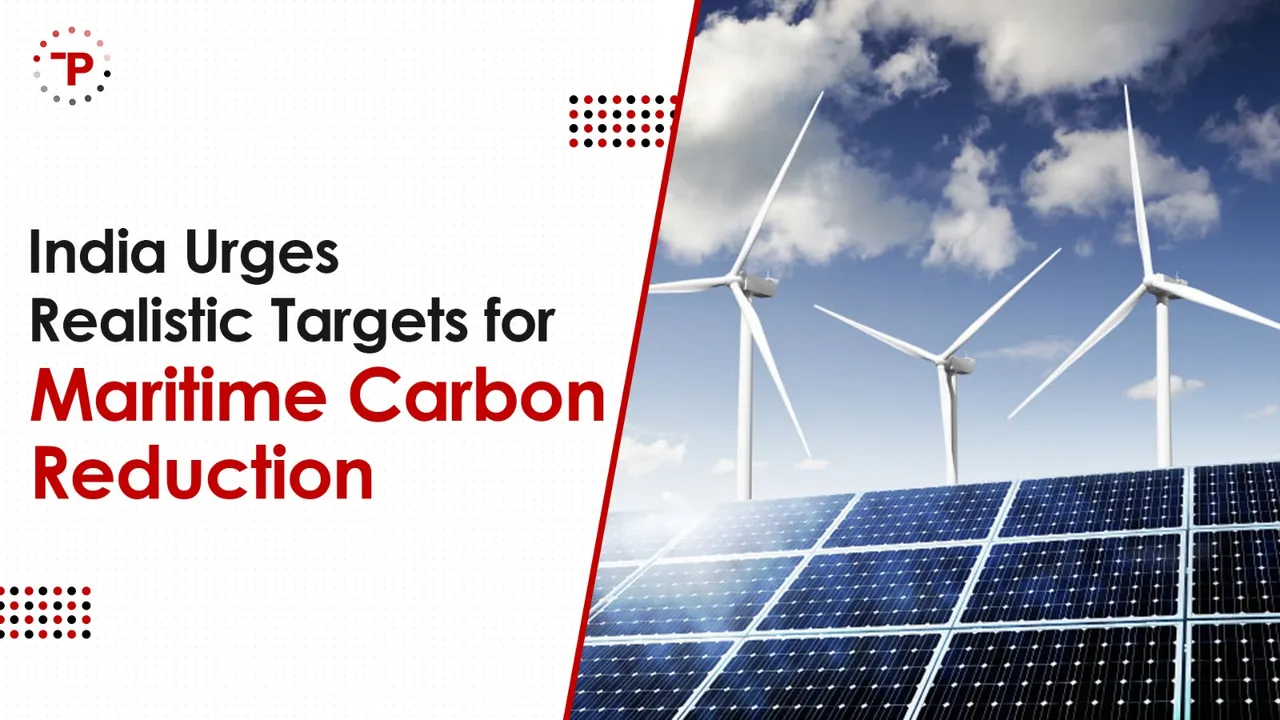 During the 80th session of the Maritime Environmental Protection Committee (MEPC) of the International Maritime Organisation (IMO), India presented its stance on the reduction of carbon emissions in the maritime sector. Indian delegate Ajithkumar Sukumaran emphasized the need for realistic targets, a smooth transition, and inclusive measures to avoid adverse repercussions on the industry. India also expressed support for financial measures that encourage the adoption of green energy while cautioning against penalizing the industry.
Realistic Targets to Ensure Smooth Transition:
India urged the IMO to focus on setting a realistic target of 5 percent net zero carbon fuels in the marine fuel mix by 2030. Emphasizing the importance of avoiding additional checkpoints during the explorative and take-off period, India highlighted that unrealistic targets could lead to flawed policies, hasty and unsustainable investments by the industry, and the implementation of immature technological solutions. India, being classified as extremely vulnerable in the climate change vulnerability index, proposed a phased-in reduction strategy that ensures achievability and inclusivity.
Positive Stance on Financial Levy:
India expressed a positive stance on the proposal for a financial levy on greenhouse gas emissions. However, it stressed that the motive behind such measures should be to encourage the transition to green energy rather than penalize the industry. India suggested that economic proposals should generate funds not only for research and development in the maritime sector but also for the production of alternative fuels and the development of infrastructure for their supply networks in ports worldwide.
India highlighted that economic measures alone or as part of a basket of measures may not be sufficient to achieve the goals of the Paris Agreement without ensuring the availability of affordable future fuels, cost-effective engines, and trained manpower to operate them. India called for revenue generation proposals and strategically distributed the generated revenues to deserving sectors.
Deliberations on Financial Proposals:
India acknowledged the economic proposals put forth by co-sponsors, including China, Norway, Japan, and the International Chamber of Shipping (ICS). While recognizing their merit, India suggested further fine-tuning and collating these proposals. The delegate called for intense deliberations in future sessions to develop a more meaningful and inclusive proposal before its adoption.
India assured its wholehearted support for any initiative from the IMO aimed at controlling emissions from the maritime sector. By expressing its commitment to addressing emissions, India emphasized its willingness to actively participate in efforts to reduce carbon footprints in the industry.