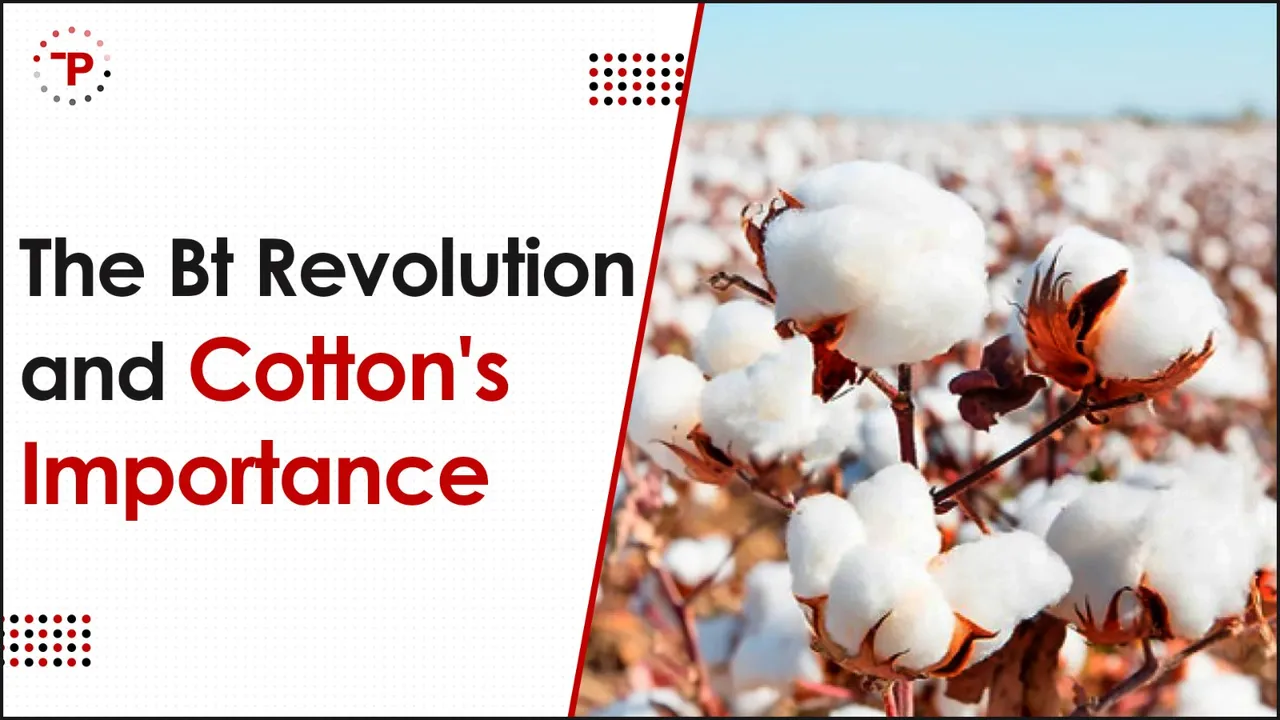 Cotton, often referred to as 'white gold,' plays a pivotal role in India's agriculture and textile sectors. It serves as a source of food, feed, and fibre, with cottonseed being the country's third-largest domestically produced vegetable oil and the second-largest feed cake/meal after soybean. 
From 2000-01 to 2013-14, India witnessed a significant boom in cotton production, largely attributed to the adoption of genetically modified (GM) cotton hybrids featuring Bacillus thuringiensis (Bt) technology.
The Bt Revolution and Its Impact
The introduction of Bt technology in Indian cotton farming marked a turning point. By incorporating genes from Bacillus thuringiensis into cotton hybrids, farmers gained protection against the American bollworm, a notorious cotton pest. 
This innovation led to remarkable yield increases, with average lint yields per hectare more than doubling between 2000-01 and 2013-14.
The Emergence of a Different Threat
However, the success story of Bt cotton has been marred by the emergence of a new adversary: the pink bollworm (PBW), scientifically known as Pectinophora gossypiella. Unlike the American bollworm, PBW is monophagous, primarily feeding on cotton. This specialization enabled PBW larvae to develop resistance to Bt proteins over time, leading to widespread infestations.
The PBW infestation has spread across cotton-growing regions, causing damage much earlier in the crop's cycle, sometimes as early as 40-45 days after sowing. This shift has resulted in reduced yields and lint quality. States like Gujarat, Andhra Pradesh, Telangana, Maharashtra, Punjab, Haryana, and northern Rajasthan have all experienced varying degrees of PBW infestations.
Battling the Pink Bollworm
Conventional insecticide spraying has proven ineffective against PBW larvae that target cotton bolls, squares, and tender flowers. As a solution, the concept of "mating disruption" has emerged. This approach involves the use of synthetic pheromones that mimic those secreted by female PBW moths to attract males. When males are drawn towards these synthetic lures, they do not mate with females, preventing the laying of eggs and the subsequent development of larvae.
The Central Insecticides Board & Registration Committee has approved two mating disruption products, PBKnot and SPLAT, for controlling PBW. These products are designed to release synthetic pheromones gradually, making them highly effective during the critical 40-45 days after sowing, precisely when flowering begins.
Field experiments conducted by the South Asia Biotechnology Centre (SABC) using PBKnot technology have shown promising results. PBW mating has been reduced by up to 90%, leading to a 25% increase in kapas yields, further emphasizing the potential of this innovative approach.
The Road Ahead
Cotton, cultivated predominantly by smallholders across 12.5 million hectares, remains crucial to India's agricultural and textile sectors. While the Bt revolution propelled production, the emergence of PBW and other dominant pests poses new challenges. These challenges have even discouraged cotton farming in certain states like Punjab.
The future of cotton cultivation in India hinges on the adoption of new technologies, including genetically modified crops, next-generation insecticides, and mating disruption strategies. As the country seeks to safeguard its cotton industry, innovation will be essential in ensuring that cotton continues to thrive as a vital source of food, feed, and fibre.