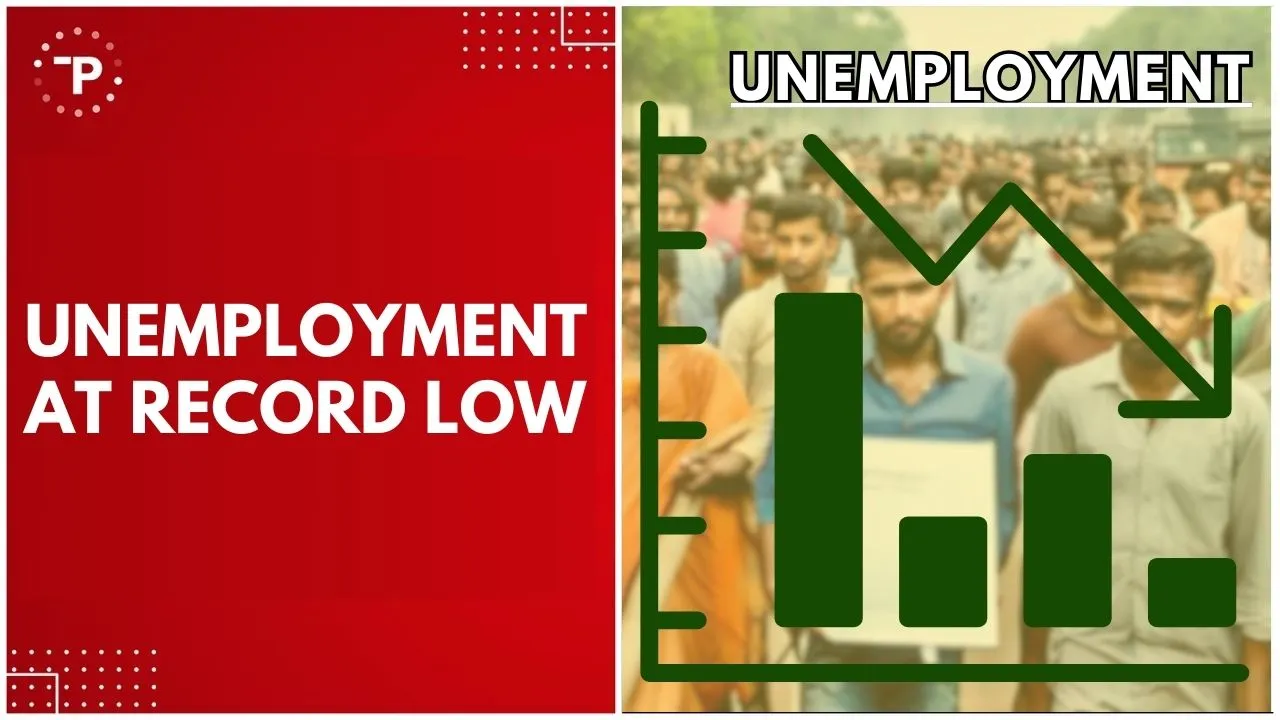 India's unemployment rate has reached a record low, and the country's labour market is undergoing a significant structural transformation, according to a report released on Tuesday by economists at the State Bank of India (SBI), the country's largest lender.
The report challenges the conventional interpretation of employment data, arguing that the rise in the number of self-employed individuals, particularly household helpers, should reflect increasing entrepreneurship rather than shrinking job opportunities.
Self-Employment on the Rise
The report highlights that the proportion of self-employed individuals within the labour force has increased from 52.2% in FY18 to 57.3% in FY23. This growth is primarily attributed to the rising share of household helpers, indicating a shift towards informal, family-based enterprises.
The SBI economists attribute this trend to the government's focus on promoting entrepreneurship through initiatives like the Prime Minister's Mudra Yojana (PMMY) and post-pandemic schemes like PM-SVANidhi, which provide micro-loans to support small businesses and informal enterprises.
The report emphasizes that these initiatives " impart a structural transformation in labour markets in India through the formalisation of credit for such family enterprises." This, in turn, enables individuals to establish their businesses, contributing to the rise in self-employment.
Earnings Increase Across Categories
The report further notes that earnings have increased across all categories, suggesting that individuals are not simply opting for self-employment due to a lack of formal job opportunities. Instead, they are making informed decisions to pursue entrepreneurial ventures, recognizing the potential for better earnings and flexible work arrangements.
The report also highlights the role of government schemes in addressing primary subsistence needs like food, shelter, and medical care. With programs such as free rations for 80 crore people, PMAY, and Ayushman Bharat, individuals are less reliant on formal employment to meet their basic requirements.
Call for "Reinterpretation of Old Fashioned Rhetoric"
The SBI economists urge for a "reinterpretation of old-fashioned rhetoric" surrounding employment data, emphasizing the need to recognize the positive aspects of self-employment and entrepreneurship in India's evolving labour market. They argue that a more nuanced understanding of employment trends is essential for formulating effective policies that support the growth and development of the Indian workforce.
India's labour market is undergoing a significant transformation, with self-employment and entrepreneurship playing a growing role. Government initiatives aimed at promoting micro-enterprises and formalizing credit for family businesses are fueling this shift. As earnings increase across categories and primary subsistence needs are met through government schemes, individuals make informed choices to pursue self-employment opportunities.
The SBI economists' call for a "reinterpretation of old-fashioned rhetoric" underscores the need to recognize the positive aspects of this transformation and tailor policies accordingly.