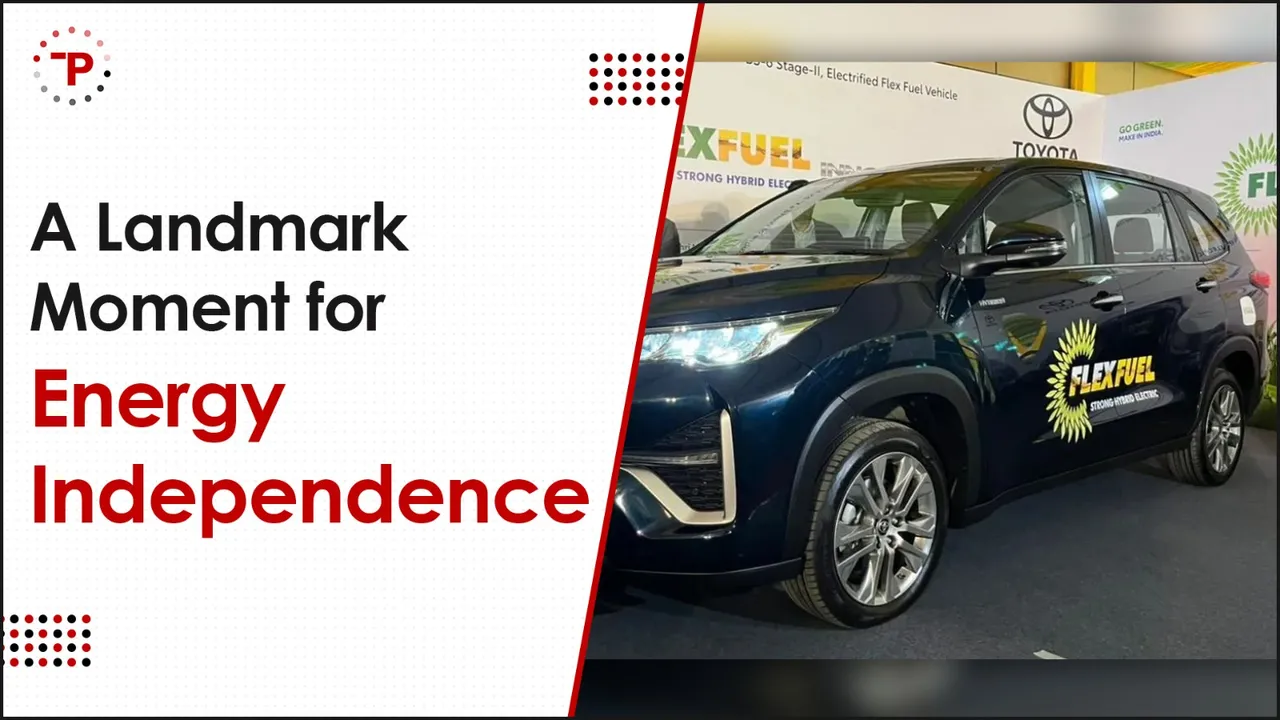 In a remarkable leap towards energy sustainability, Union Road Transport and Highways Minister Nitin Gadkari unveiled the world's first 100% ethanol-fueled car on Tuesday. The pioneering move showcases India's commitment to reducing its dependence on fossil fuels and embracing alternative energy sources. The revolutionary vehicle, a Toyota Innova HyCross, stands as a testament to India's strides in eco-friendly transportation and innovation.
The 100% ethanol-fueled Toyota Innova HyCross represents a significant milestone in the realm of automotive technology. This groundbreaking vehicle is not only the world's first electrified flex-fuel car but also adheres to the stringent BS-VI (Stage-II) emissions standards. By running solely on ethanol, the car demonstrates India's determination to embrace sustainable practices while simultaneously promoting advanced engine technology.
Ethanol: The Path to Reducing Oil Imports
Ethanol, a biofuel with the chemical formula C2H5OH, is obtained through the fermentation of sugar. While sugarcane remains a primary source for ethanol production in India, other organic materials such as food grains can also be utilized.
This innovation aligns with the government's Ethanol Blended Petrol (EBP) Programme, aimed at mixing ethanol with petrol to reduce fossil fuel consumption. With India's ambitious target of achieving 20% ethanol blending with petrol by 2025, this ethanol-fueled vehicle represents a significant stride toward energy sustainability.
A Stride Towards Atmanirbhar Bharat
Minister Gadkari emphasized the economic implications of the ethanol revolution. With the country's staggering ₹16 lakh crore expenditure on oil imports, he underlined the importance of attaining energy self-reliance. The launch of the ethanol-run Toyota Innova serves as a bold step in that direction. As India aspires to become Atmanirbhar (self-reliant), reducing oil imports stands as a crucial objective for boosting the economy and ensuring a secure energy future.
Pioneering Green Mobility for a Cleaner Tomorrow
In addition to economic benefits, the ethanol-fueled Toyota Innova contributes significantly to environmental preservation. Minister Gadkari stressed the necessity of adopting greener fuels to counter pollution, enhance air and water quality, and protect the nation's ecological balance. By promoting the usage of ethanol, the government aims to reduce harmful emissions and mitigate the adverse effects of conventional fossil fuels.
This groundbreaking launch follows the introduction of the Toyota Mirai EV, a hydrogen-powered car, last year. These initiatives highlight India's commitment to promoting alternative and green energy sources, signalling a paradigm shift in the nation's automotive industry. As the world grapples with the consequences of climate change, India's push towards green mobility demonstrates its dedication to global sustainability goals.
Ethanol: The Green Fuel of the Future
Ethanol's potential as a green fuel is undeniable. Studies indicate that ethanol supports complete combustion, leading to significant reductions in carbon monoxide and hydrocarbon emissions. While nitrous oxide emissions remain subject to vehicle and engine factors, the overall trend leans toward a cleaner and more sustainable future.
The launch of the world's first 100% ethanol-fueled Toyota Innova HyCross marks a historic stride towards energy independence and environmental preservation. Minister Nitin Gadkari's visionary approach to greener mobility showcases India's determination to shape a sustainable future. 
As the nation accelerates towards a cleaner, more self-reliant energy landscape, the world watches closely, inspired by India's dedication to innovation and progress.